Philip Lamey: Former consultant guilty of over 100 charges of malpractice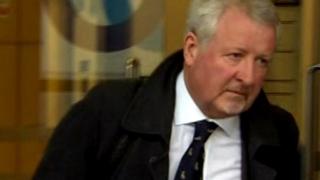 A disciplinary panel has found a former consultant at the Royal Victoria Hospital's School of Dentistry guilty of more than 100 charges of malpractice.
Prof Philip Lamey was removed from his job in 2011 after serious concerns were raised about his work.
The General Dental Council has found 108 charges of malpractice proven against him, and dismissed 53 charges.
He will find out on Tuesday whether any action will be taken against him.
In 2011, 135 of Prof Lamey's patients had to be recalled after 35 developed cancer. Four of the patients subsequently died.
At a hearing that started in February 2013 and ended in May, Prof Lamey faced 46 counts of malpractice which included over 160 charges involving 33 patients.
Critical
He was criticised by the panel for his treatment in a number of cases.
In one instance, he failed to spot the changes in a patient who for years had a dry mouth condition that developed into cancer, despite seeing her on six occasions.
In another, a 79-year-old woman's oral cancer was missed after Prof Lamey failed to send her for a biopsy.
The panel was also critical of him putting the mouth lesions of a patient down to trauma.
It said he should have ordered a biopsy and that it was fortunate the man was seen by other doctors.
The practising dentist previously held a post teaching at Queen's University but lost an unfair dismissal case against the university in August.