University of Ulster faces immediate £3m budget cut, staff told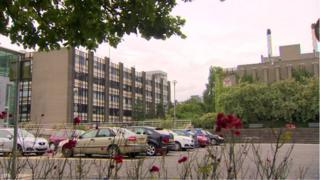 The University of Ulster has told staff it will have to make an immediate budget cut of £3.15m as a result of financial pressures at Stormont.
That cut amounts to just under 4% of the university's day-to-day costs.
The university said it intends to cut £2m from the staffing budget and the remainder from other running costs.
In an email to staff, UU vice chancellor Richard Barnett warned that "further restructuring is likely to be required".
In-year cut
There is no indication of imminent job cuts, but the email states there will be "tight control over the approval of replacement posts".
The university is largely funded via a grant from the Department for Employment and Learning (DEL).
In common with other Stormont departments, apart from health and education, DEL had budget cut by 2% in July.
Mr Barnett's email explains that a grant letter from DEL was received on 7 August which was in line with the university's financial planning.
However, a few days later DEL told the university it would face an in-year cut of £3.15m.
Mr Barnett warns that further in-year cuts could be coming following the October monitoring round - one of Stormont's regular budget reallocation processes.
There are already indications that the October monitoring round will see cuts of 6% to departmental budgets.
'Consequences'
Mr Barnett explicitly links the budget pressures to Stormont's resistance to implement welfare reform.
He writes: "The recurrent grant that Stormont receives from London is being reduced on the assumption that savings have been achieved as a result of the implementation of welfare reform.
"However, welfare reform has not been implemented here. As a consequence departmental budgets have been cut."
He continues that "it is not for us to comment on the merits or otherwise of welfare reform," adding that political choices "have consequences".