Older people 'to contribute almost £25bn to NI economy'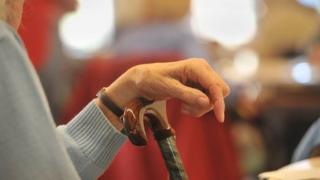 Research for Northern Ireland's Commissioner for Older People claims that older people will contribute almost £25bn to the local economy over the next 50 years.
NI has a rapidly aging population, and by 2027, the number of people aged 65 and over is projected to rise by 44%.
That has led to concerns about growing pressures on public spending, particularly in health.
The research was carried out by Development Economics.
It calculates that financial and other contributions more than offset the costs of an aging population.
Claire Keatinge, the Commissioner for Older People, said the research "challenges the negative perception that older people are a drain on the public purse".
"It is time that we reframe the debate and ensure that the contributions of older people are properly valued, and that we invest resource, time and effort into making Northern Ireland a great place to grow older," she added.
Chief economist for Danske Bank, Angela McGowan, said the report shone a "bright light on the true value of older people to both our economy and our society as a whole".
Jennifer McCann, junior minister for the Office of First Minister and Deputy First Minister (OFMDFM), said: "We all gain from the contribution of older people to society."
Projections
Fellow OFMDFM junior minister Jonathan Bell said: "The executive's Active Ageing Strategy aims to lay the building blocks for the future generation of older people to age with respect, dignity, choice and good health."
The research considered the period from 2012 to 2062 during which life expectancy is projected to keep improving.
On those projections, about one in three of the population will be over 60 by 2062.
It calculates the total costs of that aging population as £92bn, more than half of which is health costs.
That figure excludes state pension costs, which people contribute to throughout their working lives via National Insurance.
The contributions from older people are classified as £50bn in tax payments and an economic value of £67bn attributed to other activities.
Those other activities reflect economic activity which does not show up directly in the public finances.
Those are: £25bn in volunteering, £36bn in caring, including childcare, and £6bn in replacement parenting.
Those figures are arrived at using a variety of survey and census data.