Police ombudsman: Budget cuts delay investigations into killings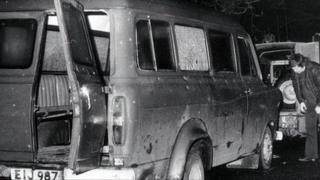 Budget cuts have delayed Police Ombudsman investigations into allegations of serious crime by the police in almost 300 NI killings.
The Police Ombudsman's finances have been cut by about £750,000 this year.
As a result, the contracts of 10 members of staff who were investigating historical matters have been terminated. It reduces the staff to 30.
Plans to begin work on some high-profile cases within six to 12 months have had to be postponed.
Ombudsman Dr Michael Maguire was to have examined claims of criminal misconduct by Royal Ulster Constabulary officers, including collusion and conspiracy to murder and perverting the course of justice.
They include the IRA killing of ten Protestant workers near the County Armagh village of Kingsmills in 1976, the murders of 12 people at La Mon Hotel, outside Belfast and what has become known as the Glennane series - more than 70 murders in counties Armagh and Tyrone in the 1970s.
Dr Maguire said: "The reduction in budget has undermined our ability to deal with the past.
"The number of complaints we have received about historical matters has doubled since 2012 - we now have almost 300 cases.
"I had hoped that the additional funding we had requested could have allowed us to complete these cases within six years, but suspect they may now take 12 years or more."
Campaigners for the families of victims are concerned at the move.
Alan Black, who was shot 18 times in the Kingsmills attack, was the only survivor of the atrocity.
He said: "It just beggars belief that after 39 years, and within touching distance of getting a proper investigation, then it's snatched away on the excuse of money.
"That can be no excuse. Money should be put into the ombudsman's office. Justice shouldn't have a price tag.
"I just despair of justice in Northern Ireland."
Karen Armstrong, whose brother, John McConville, was killed in the attack, said: "At the end of the day, murder is the ultimate crime.
"My brother and nine others, their lives were so cruelly and viciously taken on a roadside and we have now lived with that loss for 39 years and we're still waiting on some justice and truth.
"And we will continue, we won't stop. Society is put together on the rule of law and that's what we all hoped will be there for us when we need it, but we have been totally let down."
The move comes on the day the Police Service of Northern Ireland confirmed it was closing more than 300 temporary agency posts at the end of the year.
It said the cuts would "effectively mean the closure" of the Historical Enquiries Team (HET), which investigates Troubles-era killings.