Teacher's pet: Guide dog, Bart, the first to attend an NI school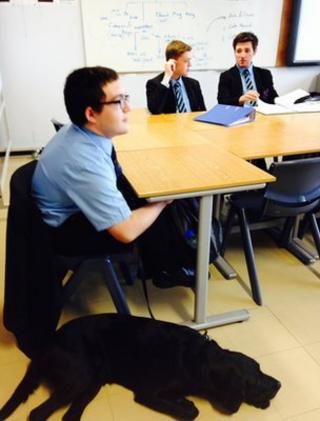 He's the sixth former with a difference - Bart is the first assistive dog to attend school in Northern Ireland.
He is owned by 17-year-old James Cunningham, the deputy head boy at Portadown College.
James has a medical condition which restricts his vision.
"If you are in a moving train and you look out the window and everything is blurred, that's how I see normally and also I have tunnel vision so I have got nothing in my periphery," he said.
Bart is a Labrador retriever cross. He helps James navigate the school corridors, going to class throughout the day.
He is a huge hit with the other students, but they are not usually allowed to pet him between classes or during teaching.
Sean Dunlop is a history teacher in the school. He says Bart's presence in the class is relaxing and while it can be a bit of a distraction, James' peers are learning to manage it.
"There are points in the class where they're maybe doing group work that allows them to go and pet the dog," he said.
"He's a lovely, soft wee dog. The only problem is his tail wags too much and beats the people round him."
James lives about two miles from the school. He is now able to walk in every morning on his own through rush hour.
Inside the busy school, Bart helps James get from class to class. He is a black dog in a school with a black uniform and he can sometimes be hard to spot at James' side.
He has had his tail stood on once, but James says he was very understanding and only sulked for a little while.
The school principal, Simon Harper, believes Bart has been a big addition to Portadown College.
They took lots of advice from the Guide Dogs' Association to help smooth his introduction.
"Mostly it was around educating our young people, and, indeed, our teachers and other staff, that this was a working dog, rather than someone bringing their pet into school," he said.
"But the best thing is the measure of independence that this has given James that he wouldn't have had before."
James is a talented clarinet player and hopes to study music at university next year.
He says Bart prefers Mozart to Schubert and wags his tail in time to the music.
He is looking forward to his third level education, with the new-found confidence that Bart has given him.