US to play role in NI talks says Irish minister Charlie Flanagan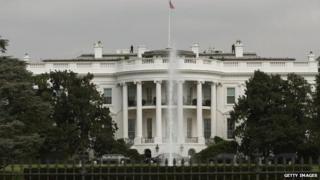 The US administration will play a role in fresh talks to resolve outstanding issues in Northern Ireland, the Irish minister for foreign affairs has said.
Charlie Flanagan told Irish broadcaster RTÉ he had "no doubt" they would play a "constructive" part in talks involving the British and Irish governments.
He was speaking after meeting US Vice President Joe Biden and Secretary of State John Kerry in Washington DC.
Ex-US Senator Gary Hart met NI parties on a fact-finding trip in August.
The fresh round of inter-party talks was announced on Sunday by Northern Ireland Secretary Theresa Villiers.
She told activists at the Conservative Party conference that "disputes over flags, parades and the past are consuming ever increasing amounts of time and resources".
She said all the parties needed to work together to "lift the blockages which are now preventing the devolved executive from delivering the efficient and effective government that the people of Northern Ireland want and deserve".
Precise details of how a new talks process would work will become clear after the Northern Ireland secretary has discussions with the five main Stormont parties and the Irish government.
Last year, US diplomat Dr Richard Haass and his associate, Dr Meghan O'Sullivan, failed in their attempts to reach all-party agreement about the issues of the past, parades and flags.