Casement Park: Evacuation concerns raised in court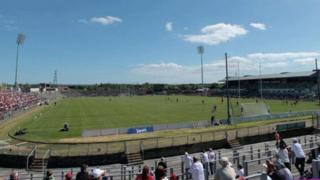 The emergency evacuation of a capacity crowd at a redeveloped GAA stadium in west Belfast could take up to 47 minutes, the High Court has been told.
The assessment, by a police sergeant, is based on a major incident closing off a main exit to the proposed 38,000-seater ground at Casement Park.
But counsel for the Planning Service said such scenarios were speculative.
A residents' group wants a judge to quash the environment minister's decision to approve the project.
They claim the stadium will be too big for the area, dwarf surrounding homes, block out light and compound traffic congestion.
As part of the Mooreland and Owenvarragh Residents Association (MORA)'s challenge, a PSNI document on event management, road safety and evacuations was introduced.
Safety certificate
It went into potential situations, such as a gas leak or security alert closing off the Andersonstown Road, fronting the stadium.
Under the current design, according to the police assessment, it could take crowds up to 47 minutes to leave the ground by the other exit.
Counsel for the Planning Service said it would be for Belfast City Council to decide whether to issue a safety certificate.
He pointed out that such a licence has been granted for the existing Casement Park, with many of the same exiting design features.
"There's every reason to say there will be certification for the new, improved Casement," he said.
Stressing that it was not an issue for planning decision makers, the lawyer claimed the point about evacuation was misconceived.
The judge was also told the Police Service of Northern Ireland continues to back an events management plan envisaged for the new ground.
It includes efforts to deal with congestion by encouraging some fans to use public transport instead of travelling into the area in private cars.
One of the concerns raised by the sergeant involved potential two-hour traffic jams along Lower Kennedy Way on match days.
But, according to the lawyer, the officer's calculations have no scientific basis.
He added: "The reservations expressed by the sergeant, no doubt in good faith, are of interest only. They are not determinative."