Judge to decide if Edwin Poots showed 'gay blood bias'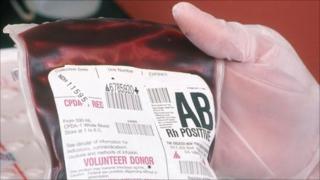 A High Court judge is to decide if ex-health minister Edwin Poots displayed apparent bias in banning gay men from giving blood in Northern Ireland.
Mr Justice Treacy has already ruled the lifetime prohibition is irrational.
However, he reached no conclusion on claims that Mr Poots' stance was prejudiced by religious beliefs.
Lawyers for a homosexual man who brought the case were set to challenge that aspect of his verdict.
However, on Thursday judges in the Court of Appeal directed that the case must first be sent back for a determination on the issue.
Lord Justice Girvan said: "The appropriate course of action to ensure finality in relation to the first instance decision, is that the matter should go back to Mr Justice Treacy to consider the question of perceived bias which he considered was not necessary to resolve."
The prohibition, put in place during the 1980s Aids threat, was lifted in England, Scotland and Wales in November 2011.
It was replaced by new rules which allow blood from men whose last sexual contact with another man was more than a year ago.
But Mr Poots maintained the ban in Northern Ireland on the basis of ensuring public safety.
'Irrational'
In October last year, Mr Justice Treacy ruled that Mr Poots' position on donations from men who have had sex with men deviated from the rest of the UK.
He found the decision was irrational and declared Mr Poots in breach of the ministerial code by failing to take the issue before the Northern Ireland Executive.
Before his departure from office, Mr Poots launched an appeal against the verdict. British Health Secretary Jeremy Hunt is also contesting the ruling.
But the gay man who brought the original case, identified only as JR65, wants a finding of apparent bias to be made.
His legal team were seeking permission from the Court of Appeal to introduce fresh evidence in the form of comments Mr Poots made about his "Christian principles" when speaking about the case in the Northern Ireland Assembly.
They also want to be able to refer to a news report on Mr Poots' contribution to a debate on gay men giving blood back in 2001.
With the challenge to the High Court verdict listed for hearing in January.