Peter Robinson: Irish 'difficult decisions' an example to follow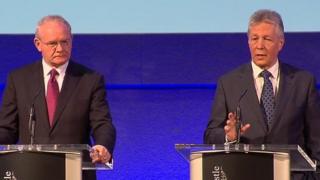 First Minister Peter Robinson has said the difficult financial decisions taken in the Republic of Ireland are an example for Northern Ireland to follow.
He was speaking at a news conference on the north-south ministerial council meeting in Dublin.
Stormont faces a shortfall of more than £200m in its budget for the current financial year, which ends in April.
The Treasury was also warned that the executive was on track to go into the red by the end of this financial year.
Mr Robinson said difficult decisions have to be taken in a time of "real financial constraint".
"You have seen over the last number of months and years, the economy in the south turning around," he said.
"It's only because people have been prepared to take those difficult decisions, and we have to face up to them in Northern Ireland as well."
Executive ministers have so far been unable to resolve the deadlock over welfare reform and other pressures.
The first minister also said it was important all parties in Northern Ireland got "engaged" with forthcoming inter-party talks.
He said: "Without those talks, I believe there is a very real danger to the institutions of Northern Ireland."
Deputy First Minister Martin McGuinness said: "There is every prospect that we can take further decisions which will remove these challenges that we face.
"I look forward to entering the upcoming dialogue and discussions in a very positive and constructive spirit so we can all continue to move forward."