IRA man's son challenges Theresa Villiers over Troubles-era Army killings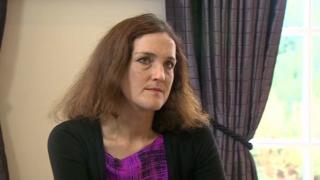 The son of an IRA man shot dead by soldiers 42 years ago has begun a legal challenge against the government over its investigation of Troubles killings.
Stan Carberry Jr's father was killed in west Belfast in 1972, but there were conflicting reports on whether he was trying to attack troops or surrender.
Mr Carberry Jr said the shooting has never been "properly investigated".
He is bringing judicial review proceedings against Secretary of State Theresa Villiers and UK state agencies.
Mr Carberry Jr has claimed that under the European Convention on Human Rights (ECHR), the government has an obligation to ensure there is an effective, independent investigation into the deaths of those killed by its soldiers.
HET criticism
His father's death has been recently investigated by the Historical Enquiries Team (HET), but the Carberry family have disputed the independence of that investigation.
The HET is a specialist police team set up in 2005 to re-examine 3,260 Troubles-era murders but its impartiality has been called into question.
In July 2013, the team was criticised by HM Inspectorate of Constabulary for treating killings carried out by state agencies with "less rigour" than civilian cases.
Last week, it was revealed the HET is now effectively facing closure due to budget pressures on the Police Service of Northern Ireland.
In his judicial review application, Mr Carberry described his family's experience of dealing with the HET to date as "extremely disappointing".
'Without closure'
He stated: "We were assured that the review and investigation of my father's killing by the British Army would be independent and effective. It has taken over four years without any measure of resolution and has been characterised by delay and obfuscation in my view."
"I am aware that other families whose loved ones have been killed by the British Army have engaged with the HET for even longer periods without closure," he added.
Mr Carberry Jr claimed that as secretary of state, Ms Villiers had "failed to provide any assurance" that her government would complete a proper investigation into his father's killing, despite "its obligations as a signatory to the ECHR and to me and my family as United Kingdom citizens".
He also argued that it was not a devolved matter, as the government at Westminster retained ultimate responsibility for ensuring killings carried out by its soldiers were properly investigated.
'Unarmed'
Mr Carberry Sr was 34 years old in November 1972 when he was shot dead in disputed circumstances on Belfast's Falls Road.
Army witnesses claimed the IRA man had opened fire on them from a stolen car but civilian onlookers insisted he had been shot as he got out of the vehicle with his hands above his head.
The Carberrys are members of the campaign group Relatives for Justice (RFJ), which has been supporting the family's fight for an independent investigation in the killing for the past number of years.
Mark Thompson from RFJ said Mr Carberry Sr was unarmed when he was killed and claimed that the soldiers responsible for the shooting "have never been detained and questioned".
"In many instances where British soldiers took life they are treated as witnesses rather than as suspects," Mr Thompson added.
'Responsibilities'
Filing his judicial review application 42 years after the shooting, Mr Carberry Jr stated: "The soldiers who shot my father were acting on behalf of the British government and their authority to so act emanated from the Ministry of Defence.
"I believe the United Kingdom government cannot now absolve itself of its responsibilities under the ECHR and to the families of those killed by the British Army during the conflict by simply asserting that policing and justice is now a devolved matter."
A spokeswoman for the Northern Ireland Office (NIO) told the Press Association it did not comment on individual cases.