Northern Ireland electricity supply and roads hit by storms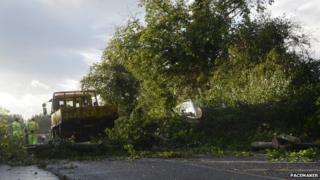 About 150 homes are without electricity following severe gales that swept across the eastern counties of Northern Ireland during the night.
Gusts of 70mph, along with heavy rain, damaged the electricity network in Counties Down and Antrim, bringing down poles and lines.
Fallen trees also closed a number of roads across Northern Ireland.
Northern Ireland Electricity (NIE) said power was restored to about 7,000 homes on Sunday night and Monday morning.
They are still responding to about 130 incidents of damage to the electricity network in rural parts of Counties Down and Armagh.
A spokeswoman for NIE said the company was "doing everything possible to restore power to customers in worst affected areas" as fast as it could.
The highest wind speed during the night was a gust of 61 knots, or 70mph per hour, recorded at the weather station at Magilligan Point, County Londonderry, just after midnight.
The weather station at Orlock Head, on the Ards peninsula, recorded winds in excess of 30 knots for several hours, with gusts of up to 59 knots just after 02:00 BST.
In just five hours on Sunday night, the weather station at Aldergrove, County Antrim, recorded 16mm of rain - more than in the whole month of September.
Between 17:00 BST on Sunday and 05:00 BST on Monday, Katesbridge in County Down had 37.4mm of rain - the most in the UK - while Banagher in County Londonderry had 31.6mm in six hours.