JTI Gallaher: Local people speak of shock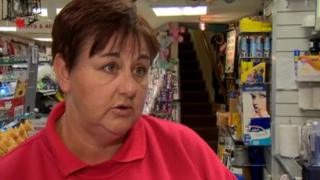 A County Antrim town is reeling from the shock news that the town's cigarette factory is to close with the loss of 877 jobs.
On Tuesday, staff were told the JTI Gallaher cigarette factory plant in Ballymena is to close permanently by 2017.
Shop owner Andrine Millar said it would be a devastating blow to the town.
"This is only a small business, if big businesses are going under, how are we going to cope?" she said.
A businesswoman, Angela Richie, said the local economy had just begun to emerge from the recession.
"Just to get the blow of this news today, it could rock us again, back to square one," she said.
"I think Ballymena is quite resilient. Pattons closed last year as well.
"I do think that things are improving at the moment and that business is getting better, so I just hope that this news today is not going to have too much of an impact. But we do feel for the families that are going to be involved directly."
BBC News NI spoke to workers leaving the cigarette factory and football fans outside Ballymena show-grounds, after the news emerged.
"It will be a blow for the town, for me. I've to look for another job," said one man.
One man, who had been to see a match at the show-grounds, said: "It's a big blow to the local economy.
"A lot of people work there, big history to it as well. It's terrible to see."
Gallahers, as it is still known, has employed families for a number of generations.
One man told the BBC: "It's a very bad job for Ballymena. It depends on it a big lot. My two sons work in it."
Another said: "It's a big shock. My father and my mother worked in it for years. Bad for the town."