Cannabis factory equipment donated to National Trust gardeners by police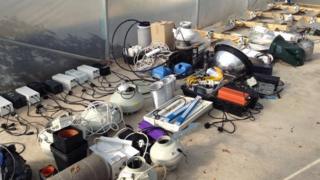 Lighting equipment seized from cannabis factories in County Down is to be used to help grow plants at one of Northern Ireland's best known stately homes.
Mount Stewart, a mansion run by the National Trust, received its unexpected windfall from the illegal drugs trade via a neighbourhood police team.
The Comber police team said they were "redistributing lights and power packs seized from local cannabis factories".
They said it was given to Mount Stewart "to aid plant cultivation".
Heat lamps
Writing on their Facebook page on Tuesday, the Police Service of Northern Ireland (PSNI) Comber Neighbourhood Team also asked the public to contact them they knew of any local community associations that could benefit from similar seizures.
The PSNI launched the redistribution initiative in June, as part of their drive against the illegal trade in County Down.
Often lighting equipment and heat lamps used in the illegal cultivation of cannabis is destroyed after it has been seized, but one officer in the Comber Neighbourhood Team decided to take a different approach.
After the first donation in June, Constable Russ Wilson said: "Over recent times, we have collected a great deal of equipment which would normally be destroyed but I decided to find out if it could be used elsewhere.
'Imaginative approach'
"I made contact with a number of organisations, including the National Trust, who were delighted to hear about the equipment and were keen to make some use of it."
Mount Stewart, a neo-classical house set in extensive grounds close to Strangford Lough, is home to one of the largest plant collections within the National Trust.
The estate's garden manager, Paul Stewart, congratulated the police on their "imaginative" approach to the confiscated equipment and said it would be "invaluable" for the future development of their plant collection.
"Our gardens are one of our biggest tourist attractions but the upkeep of them is very expensive and we rely entirely on donations for maintenance and development," Mr Stewart said.
"It is great that the Police Service of Northern Ireland have taken such an imaginative approach to the disposal of this equipment. It has helped put something back into the community and we are delighted to benefit."
'Planting experimentation'
Mount Stewart is the former family home of the 7th Marquess of Londonderry.
On its website, the National Trust describes the estate as "one of the most inspiring and unusual gardens" in its ownership.
The property, on Portaferry Road, Newtownards, has formal gardens and woodland that contain "a range of plants from all corners of the world".
"The mild climate of Strangford Lough allows astonishing levels of planting experimentation," the National Trust website adds.
The gardens are an important visitor attraction in the area and are open to the public all year round.
'Good use'
In his statement, Constable Wilson added: "Drugs can have a devastating impact on local communities but I think the fact we can do something positive on the back of it is great.
"I know that buying equipment like this can be very costly, particularly for charities, and I am delighted that organisations like the National Trust, which is a conservation charity, can make such good use of the items."