Vitalijs Sulieko charged with attempted murder in Newry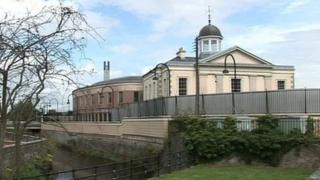 A 31-year old man has appeared in court charged with the attempted murder of a woman in Newry, County Down.
Vitalijs Sulieko, with an address in Warrenpoint, is originally from Latvia.
He admitted assaulting the woman, who is in her 50s, at Mourneview Park on Monday afternoon.
However, he denied attempted murder, saying that he had cut the woman's throat with a seven-inch blade by accident. He was remanded in custody to appear in court again next month.
A detective constable said she was objecting to a bail application at Newry Magistrates Court, as she believed there was a risk he would abscond, re-offend or intimidate a witness.
Blade
The injured woman, who lives in the house, sustained throat wounds that were several centimetres wide and deep, the court was told.
A man and a woman, said to be the accused's girlfriend, were also assaulted, the police officer said.
Mr Sulieko admitted during a police interview that he carried a black-handled blade for protection.
The detective said he arrived at the house and asked his partner to leave with him, but when she refused, he punched her in the face and pulled her hair.
The court was told that when the woman intervened, he said he was going to kill her.
He then began to wave the knife and slit her throat, the police officer said.
'Risk of flight'
A knife was recovered by the police a short time later at a nearby property, "wedged in the rear fence".
A defence lawyer said his client had an address outside Newry and would not return to the Mourneview Park area.
He said all the prosecution witnesses who were in the house had been intoxicated, and added that his client had no criminal record.
Refusing bail, the judge said: "There is a risk of flight of a non-national and of re-offending, as well as interfering with a witness.
"These are very serious matters."