Eireann Kerr police assault prosecution to proceed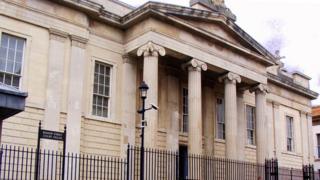 Prosecutors have decided to proceed with the case against a Belfast doctor for assault, Londonderry Magistrates Court has heard.
Eireann Kerr, of Marlborough Park South, denies assaulting two police officers outside Strand Road PSNI Station after a Christmas staff party.
A defence solicitor said she maintained that her drink had been spiked.
A Crown lawyer said prosecutors would not be relying on a toxicology report she had commissioned.
The lawyer added that the Public Prosecution Service would not challenge the contents of the report.
Ms Kerr's solicitor told the court that the toxicology report stated the Altnagelvin Hospital anaesthetist's behaviour could have been a consequence of a date-rape drug having been put into her drink.
He said he was considering seeking a judicial review of the decision to prosecute his client, as he believed it was neither in the public interest nor reasonable following the toxicology report.
The judge adjourned the case for written submissions until 24 October, when he said a date would be fixed for the trial.