Samuil Covaci refused bail over 'house of slaves' in Portadown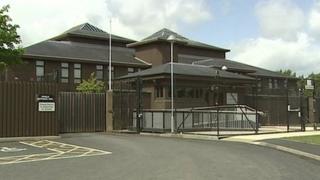 A man accused of helping to control what was effectively a house full of "slaves" in Portadown, County Armagh, has been refused bail.
Samuil Covaci, who is originally from Romania, is facing multiple charges of people trafficking and exploitation.
He was arrested after 20 people were "rescued from slavery" by police.
Craigavon Magistrates Court was told police believe he was one of up to 20 Romanian men living in a three-bedroom house in Charles Street, Portadown.
The conditions the "slaves" lived in were outlined to the court, including that the 20 men shared a single toilet and there was no toilet paper for weeks at a time.
They were forced to wash their clothes with shampoo and, bound by debts they supposedly owed their gangmaster, they found it virtually impossible to leave.
The court heard that although Mr Covaci was a resident of the house, the police believe his circumstances were very different from all the others he lived with and that he acted as an alpha male.
A detective said that Mr Covaci's job was to monitor and control the victims. In return, he was allowed to keep the wages he earned by working in a factory.
The others were not so lucky, as their pay went directly to an unnamed gangmaster, the judge was told.
However, the investigating officer admitted that he did not believe Mr Covaci was a main player in the suspected trafficking operation, describing him as more like a "lieutenant".
Bail was refused.