Small bomb explodes in van in Hazelbank area of Derry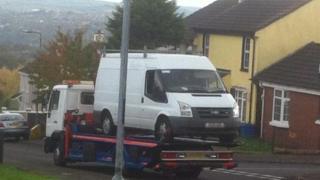 A small bomb has exploded inside a van in Londonderry.
It happened at Drumard Park in the Hazelbank area at about 03:45 BST on Sunday.
The alarm was raised by a man who heard a loud bang. An Army bomb team found that a small home-made explosive device had gone off inside his van, causing minor damage.
SDLP assembly member Pat Ramsey said the explosion had left a woman in her 70s "deeply shaken".
He said: "I understand that a device was thrown into her son's van as it was parked adjacent to her home, where she lives alone. Luckily there was no damage to the house."
Mr Ramsey said there was "absolutely no support for this kind of intimidating, terrorising attack on a family and a community".
The Foyle MLA said those behind the attack "need to explain why they targeted the home of a woman in her 70s living alone who is totally innocent".
Sinn Féin councillor Eric McGinley said: "Whoever was behind this attack showed absolutely no regard for the people of Hazelbank or the wider city."