HMS Caroline: Belfast-based warship to become museum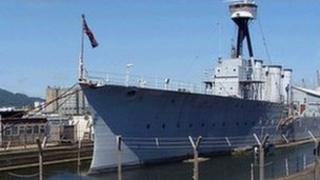 A World War One warship docked in Belfast is to be transformed into a museum.
HMS Caroline is one of a handful of surviving warships of WW1 and fought in the Battle of Jutland, just off the coast of Denmark.
The ship will be converted into a visitor attraction in time for the centenary commemorations of the battle in 2016.
The project will use £12m of funding from the Heritage Lottery Fund.
The fund had already pledged £845,000 and the Department of Enterprise, Trade and Investment have offered £2.7m towards the restoration work.
Enterprise Minister Arlene Foster said: "Today's funding announcement is great news and the restored ship will be a tremendous asset for Belfast and will complement the existing tourist attractions in Titanic Quarter to give more for visitors to see and do."
Captain John Rees, chairman of the HMS Caroline project board, said: "I am thrilled the funding is now in place and that we can now get on and deliver a world-class attraction."
Built in 1914 in Birkenhead, HMS Caroline was one of the fastest warships of the time, capable of speeds of up to 30 knots.
The ship has been berthed at Alexandria Dock since 1923.
Around 80% of the ship is original and it has what are thought to be the only surviving in-situ World War I turbines in the world.
In later years, the ship was used as a training vessel for the Royal Naval Reserve but was decommissioned in March 2011.
Restoration work on the vessel got under way in 2012 after a campaign was launched to keep the ship in Belfast.