Eakin Group: County Down medical firm buys Cliffe Medical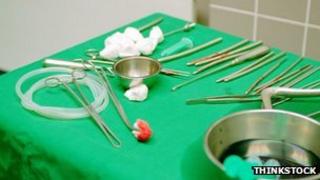 County Down medical device manufacturer the Eakin Group has bought Cliffe Medical for an undisclosed sum.
As part of the deal, the Comber-based firm has also taken over Respond Plus, a medical distribution business in Larne, County Antrim.
The Eakin Group makes wound care products for people who have had major surgery.
It sells products to more than 40 countries and last year had a turnover of £73m.
The group's managing director Paul Eakin said buying Nottingham-based Cliffe Medical was "a hugely important strategic acquisition" for the group.
"Eakin has a huge, international following around the world, yet we are relatively unknown to the public in Northern Ireland so this is the perfect opportunity for us to make that connection," he said.
The company operates in the UK through its Cardiff-based subsidiary Pelican Healthcare.
The latest deal will see Eakin's workforce increase by 55 people to 280, including 11 staff from Respond Plus.
The company was first founded in 1972 by pharmacist Tom Eakin and is now run by his sons, Jeremy and Paul.