CEF says recovery in NI construction industry has not 'materialised'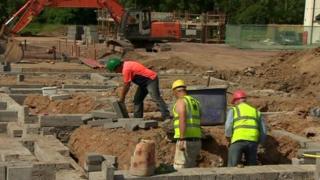 Recovery in the construction industry in Northern Ireland has "simply not materialised", an industry body has warned.
Latest official figures show output in the second quarter of 2014 was almost 4% down on the previous quarter and 6% lower than the same period in 2013.
John Armstrong, from the Construction Employers Federation (CEF), said this represented a "new low".
The industry in NI has struggled to recover from the property crash.
Northern Ireland suffered a huge crash in 2007 and 2008.
---
Analysis: By John Campbell, BBC NI Economics and Business Editor
A construction industry boss told me recently his firm was seeing no sign of growth in Northern Ireland and these figures bear that out.
New work is being won by local firms, but only by putting battalions of workers on planes and ferries to England and Scotland every week.
The man I talked to said this is far from ideal for his workforce, putting obvious strains on family life.
Like many, he is frustrated by the failure to get some big publicly funded infrastructure programmes off the drawing board and into the ground.
---
Mr Armstrong added that there was now "serious concern" in the industry that government spending pressures would act as a further brake on growth.
Output is now about half of its 2007 peak and as many as one in three jobs in the industry has been lost since that time.
Mr Armstrong said the main bright spot was that local companies have shown "remarkable success" in winning work in Great Britain.
He estimated that the top 20 local construction firms have turnover of around £1.5bn of which £1bn is now generated outside Northern Ireland.
Looking at public spending he said that pressures on the resource budget have already led to "substantial job losses" in construction companies working on public sector maintenance contracts.
"There is serious concern that worse is to come," he added.