Clarendon House: Plan to demolish Belfast office block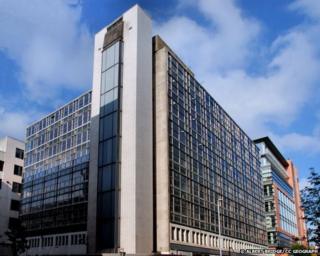 The County Tyrone property firm, McAleer and Rushe, has filed an application to demolish an office block in Belfast that it recently bought.
The Cookstown company intends to knock down Clarendon House on Adelaide Street and is then expected to develop a new office complex.
Belfast City Council had attempted to buy the building and could end up as anchor tenant in the new development.
McAleer and Rushe is one of Northern Ireland's biggest property firms.
However, it has not embarked on any major local projects since the economic downturn.
The firm has remained active across the rest of the UK, particularly in the construction of hotels.
It has also has bought the former Belfast College of Business Studies building at Brunswick Street.
In addition, the firm recently cleared the site of a former church on Great Victoria Street where it has planning permission to develop a ten-storey office block.
Very little new office accommodation has been developed in Belfast since the property crash.
However, a significant number of inward investors will need high quality offices over the next three to five years.