Newry-based First Derivatives pays £36m for majority stake in US software firm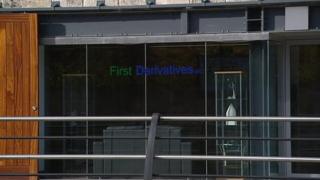 First Derivatives, the Newry-based financial technology firm, has paid £36m for a majority stake in a US software firm.
Kx Systems, which is based in Palo Alto, California, makes high performance databases using a technology called kdb+.
Its customers include banks such as Goldman Sachs and Morgan Stanley.
First Derivatives already held a 20% share in the firm, but the deal takes its holding to 65%.
Brian Conlon, chief executive of First Derivatives, said the deal was "transformational" for the two companies.
He said: "We intend to make significant investments in Kx to allow the founders and their team to scale the company whilst staying true to its heritage."
The Kx founders, Arthur Whitney and Janet Lustgarten, will continue to work for the firm. Janet Lustgarten is also expected to join the board of First Derivatives.
She said: "We have been successfully focused on Wall Street for 20 years because of the large data sets they have.
"Now because the internet of things is generating large data sets in other industries, we need to grow to be able to address these new opportunities.
"First Derivatives, with its deep pool of engineering talent and its global footprint, is the ideal partner to help accelerate our growth, scale the company and to bring kdb+ to a wider audience."
To support the financing of this the deal, First Derivatives has taken out a five year loan of £24m with Bank of Ireland.
It said some of this money could also be used for "other potential investments".