UUP leader Mike Nesbitt to renew call for electoral pact with DUP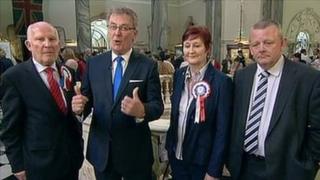 The Ulster Unionist leader Mike Nesbitt is expected to renew his call for an electoral pact with the DUP when he addresses his party's annual conference later.
It is the party's final conference before next year's general election.
On Thursday, Mr Nesbitt said he was prepared to ask supporters to vote DUP in north Belfast if the DUP stepped aside in Fermanagh South Tyrone.
Mr Nesbitt said the deal was necessary to maintain a unionist MP in Belfast.
Speaking earlier, he said: "After the last election, the DUP lost east Belfast so there is only one of the four Belfast MPs who is a unionist and that is in north Belfast.
"He's under huge pressure from Sinn Féin.
"If you're doing what's right for Northern Ireland, rather than what's right for the UUP, you will do your best to make sure that seat stays in unionist hands and therefore support the DUP."
Election
The conference is the party's first gathering since the council elections in May.
In May's council elections, the UUP reversed years of decline by slightly increasing its percentage vote, up around 1% to 16.5%. They won 88 of the 462 seats.
However, that will be tempered by the fact the party recorded its worst ever European election result the same day even though it kept its seat.
Although Jim Nicholson was elected as the third Northern Ireland MEP, the party's vote was down 3.8%.
There will also be much focus on the leader's wife, the former TV presenter Lynda Bryans, who has not ruled out standing for election herself.
In April 2012, Mr Nesbitt ruled out forging any electoral pacts with the DUP.
He said, at the time, that he could not imagine any circumstance where it would be good for the UUP, for the pro-union people of Northern Ireland or good for politics to enter into such an arrangement.