Catholic primate Eamon Martin urges 'open minds' during NI political talks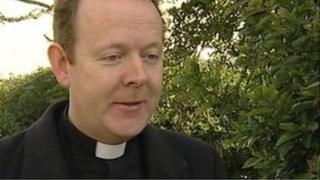 The Catholic Primate of All-Ireland has called for politicians to enter the latest round of talks with open minds.
Archbishop Eamon Martin said he was praying for the political leaders to make the negotiations work.
Talks aimed at resolving difficulties among the five parties in the devolved Stormont government began on Thursday.
Archbishop Martin told the congregation at St Patrick's Cathedral in Armagh it would take "courageous and creative leadership" to move things forward.
He said that leadership would have to have "enough self-belief and commitment to the greater good to look beyond the next election or purely party-political interests".
"If we just keep on digging trenches for ourselves then there is a real risk that confidence in the ability of politics to resolve problems will be undermined," he said.
"That is why I ask and pray that our politicians will have open minds and generous hearts during these talks, together with steady nerves and prudent speech.
"I appeal strongly to them on behalf of so many people to make the talks work this time.
"I am confident that many of us in the churches and civic society stand ready to play our part in making their agreements work on the ground."
Prime Minister David Cameron said the talks must "lift the blockages" preventing the power-sharing executive from delivering effective government.
The Democratic Unionist Party did not attend the first round-table session, with its party leader, Northern Ireland First Minister Peter Robinson, describing it as a "circus" arranged for the cameras.
The Secretary of State, Theresa Villiers, announced a fresh round of inter-party talks last month, just days after First Minister Peter Robinson had described the structures of devolved government in Northern Ireland as "no longer fit for purpose".
Like the Haass talks which ended without a deal last December, the negotiators will consider the problems of flags, parades and the legacy of the Troubles.
In addition, they will examine the Stormont budget crisis and changes to the way the assembly and executive work.