Church leaders: Reform has become political football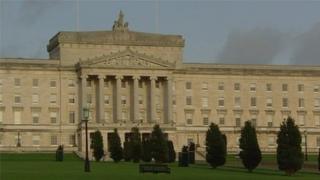 People must not become "political pawns" in the debate over welfare reform, the leader of the Catholic church has said.
Archbishop Eamon Martin was speaking after leaders of the four main churches met with Social Development Minister Mervyn Storey at Stormont on Monday.
Archbishop Martin said the church leaders were "speaking for the voiceless in society".
He said that welfare reform had become a "political football".
Speaking after the meeting, Mr Storey said: "I have given the church leaders a letter containing the details of the measures I propose to take to alleviate the worst impacts of welfare reform on vulnerable people.
"I have also given an assurance to them that there will be a step-change in how welfare reform is communicated which will help inform the debate."
In a statement, the churchmen said the discussion had been constructive and involved a full exchange of views where both sides of the welfare reform arguments were put.
Success
They encouraged the minister to put the proposals into the public domain to help overcome people's fears.
The church leaders said the minister had agreed and promised a follow-up meeting with them.
They offered support and pressed for success in the latest round of political talks that began on Thursday.
The Democratic Unionist Party did not attend the first round-table session.
Its party leader, Northern Ireland First Minister Peter Robinson, described it as a "circus" arranged for the cameras.
The talks are aimed at resolving difficulties among the five parties in the devolved Stormont government.
Like the Haass talks that ended without a deal last December, the negotiators are considering the problems of flags, parades and the legacy of the Troubles.
They shall also examine the Stormont budget crisis and changes to the way the assembly and executive work.
The churchmen who attended the meeting included Catholic Archbishop of Armagh and Primate of All Ireland, Dr Eamon Martin, Dr Michael Barry, Moderator of the Presbyterian Church in Ireland, Rev Peter Murray, President of the Methodist Church in Ireland and Archdeacon of Belfast George Davison, who represented the Church of Ireland Archbishop of Armagh and Primate of all Ireland.