MLAs debate Human Trafficking Bill at Stormont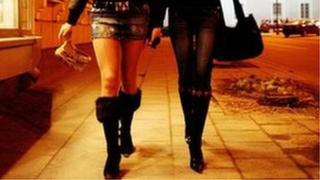 MLAs have begun debating the latest stage of a bill that tightens the law in relation to human trafficking.
The bill, drawn up by the DUP peer Lord Morrow, contains a clause that would make it a crime for anyone to pay for sex.
Justice Minister David Ford opposes the move.
However, there is increasing speculation the ban on paying for sex will be approved with backing from both the DUP and Sinn Féin.
Finance Minister Simon Hamilton is also proposing an amendment that would make it an offence for anyone to force someone else into marriage.
The amendment has been drawn up by Mr Hamilton, whose department has responsibility for registering births marriages and deaths.
The amendment reflects the introduction of a similar offence in England, Wales and Scotland earlier this year.
The move is expected to be supported by Mr Ford.
The debate is due to last until late on Monday night.
Earlier, Mr Ford said he supported the spirit of the bill, but believed that a clause that proposed prosecuting those caught paying for sex made it impractical.
Research published last week suggested that about 17,500 men pay for sex each year in Northern Ireland.
The study by Queen's University, Belfast, was commissioned by the Department of Justice in response to Lord Morrow's proposed bill.
Meanwhile, another poll has indicated that almost 80% of people in Northern Ireland support the criminalisation of paying for sex.
The Ipsos Mori survey found support for the Human Trafficking Bill was strongest among people aged between 16 to 34.