Irish street names: Judge urged to remove council block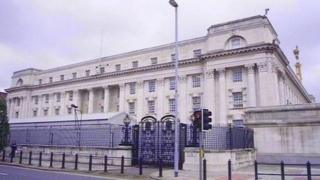 A High Court judge has been urged to overturn a council block on putting Irish signs up on a Belfast street.
The judge was told a policy requiring two-thirds of households to declare themselves in favour of dual-language plates was irrational and unlawful.
Lawyers for a west Belfast resident also claimed the criteria breached an obligation to promote Irish.
Eileen Reid was one of those canvassed about having supplementary Irish street signs erected on Ballymurphy Drive.
Out of 92 eligible residents, 52 confirmed they wanted Irish signs, with only one opposed.
However, because the other 39 did not respond to the survey, the two-thirds requirement was not met.
According to Ms Reid's legal team, these non-returned votes were wrongly counted as being opposed to dual signage.
'Obligation breach'
A lawyer said the policy failed to comply with a requirement in local government legislation for the views of residents to be taken into consideration.
Belfast City Council was also in breach of its obligation to promote Irish under the European Charter for Regional and Minority Languages, he said.
The lawyer said the local authority "fettered its discretion by fixing the threshold".
However, a lawyer for the council questioned what would happen if any survey received just a single response, but one which backed the plan.
"The fact that the vast majority of people were not sufficiently bothered to support the proposal would have to be left out of account," he said.
"On the approach urged, in an example where only one person supports the proposal and 99 don't return the survey, their apathy or ambivalence has to be ignored. That can't be right."
The council's lawyer also claimed that the requirement was perfectly normal.
"We say it's a rational policy and it was also a rational decision," he said.
"There were no circumstances requiring an exception to be made in this case."
The judicial review hearing continues.