Pipe bomb found in Templemore Avenue, east Belfast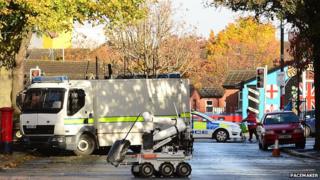 A pipe bomb has been found during a security alert in east Belfast.
The alert started after the device was discovered at Templemore Avenue on Tuesday morning.
It was examined by Army bomb disposal experts who carried out a controlled explosion on it. It has since been removed for further examination.
Templemore Avenue was closed between Newtownards Road and Beechfield Avenue but has since reopened.
Alliance Party councillor Maire Hendron said: "Somebody could have been seriously injured or killed had this pipe bomb exploded.
"There can be no justification for leaving this device in a residential area, where a child could have picked it up."
Police have appealed for anyone with information to contact them.