Belfast Spiderman rioter Ronnie Nelson convicted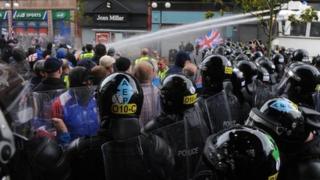 A man has been found guilty of rioting while wearing a Spiderman mask.
Ronnie Nelson, 29, from East Way, Newtownabbey, County Antrim, threw bricks at police during disturbances in Belfast in August 2013.
Trouble broke out in Royal Avenue after loyalists mounted a protest over a republican parade.
Nelson admitted being in the area at the time, but denied being the man behind the comic book superhero mask.
However, the prosecution said that Nelson, who was wearing a distinctive grey Adidas tracksuit with yellow stripes, was captured on CCTV walking nearby unmasked, and that a short time later he covered his face with a Spiderman mask before attacking police lines on Royal Avenue.
During the two-day trial, the jury was told that in the aftermath of the riot, police examined the CCTV footage in detail and that no-one else in the area on the night in question was wearing the grey Adidas tracksuit.
This, the prosecutor said, helped officers conclude that Nelson was the man behind the mask.
When he was interviewed and shown the footage, Nelson admitted he was the man in the grey tracksuit walking nearby.
However, he denied he put on the mask and said the man in the Spiderman mask could not have been him as he did not arrive at the scene until about 18:45 BST - about half an hour after 'Spiderman' was captured throwing the first brick at officers.
A defence barrister asked that pre-sentence reports be compiled.
He also acknowledged that a custodial sentence was "inevitable" but asked that Nelson be released on continuing bail "to allow him to get his affairs in order."
This request was granted by the judge, who warned Nelson that the fact he was being released on bail should be seen as no indication of the likely sentence he would receive when he is back before the court next month.