On the Run scheme: Police examine Jonathan Powell advice to Rita O'Hare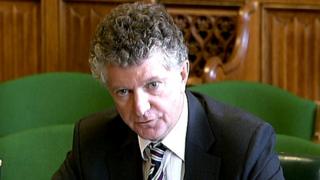 Police are examining if a former No 10 chief of staff potentially perverted the course of justice by advising a republican not to return to the UK.
Last month, Jonathan Powell told the Northern Ireland Affairs Committee he advised Rita O'Hare not to travel to Belfast as she might be arrested.
On Wednesday, MPs were told police had discussed Mr Powell's comments.
Metropolitan Police Assistant Commissioner Mark Rowley was testifying before the committee.
It is examining the issue of On the Runs, more than 200 republican paramilitary suspects who received letters telling them they were not wanted by the police.
Addressing Mr Powell's comments, he said: "We have discussed it with the PSNI and, as is routine practice, if we get allegations that pertain to potentially different jurisdictions, we have had a conversation about which force is best placed to deal with it and the conclusion we came to is the PSNI are looking at that," the officer said.
"At the moment they are scoping whether there is sufficient evidence to merit going into a formal criminal investigation or not."
Mr Rowley said he did not want to go into detailed specifics about Mr Powell's remarks but said, in general terms, to advise someone that they were wanted by police was not necessarily a criminal offence.
"It depends on the facts and specifics in terms of what was going on in this case and that's what needs scoping and that's what the PSNI are doing at the moment," he said.
Last month, Mr Powell was asked about a comment he had made during a meeting with Sinn Féin to the effect that Ms O'Hare should not travel to Belfast as it might result in her arrest.
Mr Powell had told the committee: "Had she come back, been arrested feeling she had fallen into a trap by me trapping her into coming back, the peace process would have been dead - it would have been a very bad idea."
Downey letter
The inquiry also heard that police officers who arrested a suspected IRA bomber asked the Northern Ireland Office for a copy of a letter that said he was not wanted.
Donegal man John Downey was told he was not wanted by any UK force, when he was still sought by Metropolitan Police.
His trial for the 1982 Hyde Park bombing collapsed, bringing the government scheme came to light.
Two senior Met officers said he did not have the letter when he was arrested.
Unsigned
However, Mr Rowley and Counter Terrorism Commander Duncan Ball said Mr Downey had told detectives of the letter's existence while he was in custody in London for questioning about the bombing.
The officers told the inquiry the Metropolitan Police asked the Northern Ireland Office for a copy of the letter, and initially received one that was unsigned.
Later they received a letter that did have a signature.
DUP MP Ian Paisley put it to the officers that the Met had "got the Northern Ireland Office to assist Downey finding something he had lost".
Mr Rowley denied they had tried to "assist" the suspect.
"If it (the letter) exists, the sooner we know about it, the more we and the Crown Prosecution Service can assess its bearing on the case," he said.
'Immense work'
Mr Rowley said a prosecution barrister who gave advice on the potential impact of the letter within a few days, "didn't see it as fatal to the prosecution at that stage".
The officers gave a copy of the unsigned letter to the MPs on the committee.
Mr Rowley said colleagues in the Met had done "an immense amount of work" over 30 years to build a case.
"It's very disappointing that the problems with the execution of an administrative scheme has holed the prosecution below the waterline," he said.
Mr Downey had been charged with murdering four soldiers - Squadron Quartermaster Corporal Roy Bright, Lieutenant Anthony Daly, Trooper Simon Tipper and Lance Corporal Jeffrey Young - in the Hyde Park bombing on 20 July 1982.
He was arrested as he was passing through Gatwick Airport on his way to Greece in May 2013. He denied the charges.
The case against him collapsed in February after a judge ruled he could not be prosecuted because he had been sent a letter informing him, in error, that he was not wanted.