Forkhill farmer Francis Tiernan admits £1m forged will role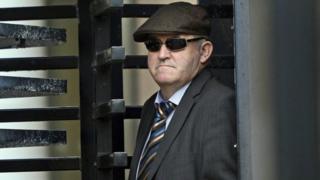 A south Armagh farmer who tried to use a forged will to inherit most of a £1m estate from an elderly woman will find out on Friday if he will be jailed.
Francis Tiernan, 54, pleaded guilty to being part of a conspiracy described in court as "like a Hollywood script".
In December 2004, Catherine 'Kitty' Haughey was found dead in her flat above the Forkhill pub she owned.
Concerns arose about her will after it emerged it had been changed two weeks before her death.
The alarm was first raised by Ms Haughey's friend Alice Quinn. Ms Quinn had been one of the main beneficiaries of the will, along with a number of charities, until it was changed at the end of 2004.
Her doubts about the new document began even before Ms Haughey's funeral. She had started to worry, Newry Crown Court was told, after a conversation with Tiernan at the wake.
She contacted Irish police and eventually an investigation was begun in Northern Ireland.
Three years later, in 2007, Ms Haughey's body was exhumed as part of that investigation. A post-mortem examination, however, confirmed that she had died of natural causes.
Extradition
Tiernan, from Carrickasticken Road in Forkhill, was Ms Haughey's godson and had received £1,000 as part of the first will. He originally denied involvement in forging the fake replacement, but changed his plea earlier this month having been extradited from the Republic of Ireland.
A GP and a surveyor had already pleaded guilty to drafting and witnessing the fake document and they were both given suspended sentences earlier this month.
The new will gave Tiernan a house, known as Annie Murphy's Cottage, Ms Haughey's pub, Larkin's - which alone was valued at £500,000 - and substantial amounts of cash in the deceased's bank accounts.
The charities that were to have benefited - a hospice and the Ulster Cancer Foundation - have lost out because, according to the prosecution, the estate has suffered loss and damage while in Tiernan's control and the bank accounts have been severely depleted.
Tiernan's defence team argued that, while he admitted being the sole architect of the fraud, he felt that the fake will actually reflected the wishes of the dying woman.
They pointed out that he did not make himself the sole beneficiary with significant amounts going to several charities and individuals. They accept, however, that he was the main beneficiary and that what he did was "entirely wrong".
The judge said the case was a complex one and deferred sentencing until Friday.