Callum Fitzpatrick celebrates £390K National Lottery win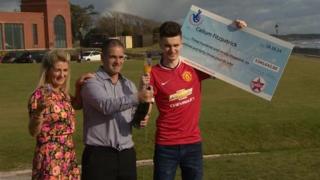 A 16-year-old schoolboy is celebrating after winning more than £390,000 in the National Lottery.
Callum Fitzpatrick, from Ballymartin, County Down, said he "burst into tears" when he matched five numbers and the bonus ball in last Saturday's draw.
As one of Northern Ireland's youngest ever lottery winners, he had to celebrate with a glass of orange juice rather than the traditional champagne.
The A level maths student still plans to go to college and study accountancy.
"I really couldn't believe it as the first five numbers that were drawn out were all mine," he said.
"Then I missed the sixth number 33 but got the bonus ball too. It was really unbelievable and I got everyone in the room to check my ticket and check the numbers to make sure that I hadn't made a mistake."
"When I finally realised it was true, I burst into tears but not for long, then I phoned my dad on his mobile to break the news.
"He didn't believe me at first but then he realised I was telling the truth," he added.