Ulster Bank portfolio: £5bn loans may be sold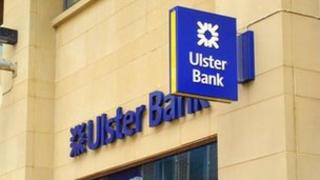 Ulster Bank is proposing to sell a loan portfolio with an original value of almost £5bn.
The bank is seeking to leave behind the legacy of its boomtime property lending.
It had originally put together an all-island portfolio called Project Aran containing loans with an original value of just over £1bn.
The property news service Co Star said the bank has decided to increase the size of the portfolio due to demand.
It said the shortlist of buyers includes the funds Lone Star and Cerberus and a consortium which includes Goldman Sachs.
Banks across the island of Ireland have been selling loan portfolios as a way to swiftly reduce property exposure.
On the whole, these portfolios have been bought by large US investment funds.
The biggest of these deals was Nama's sale of its entire Northern Ireland loan portfolio for £1.3bn earlier this year.
Ulster Bank is working to drastically reduce its property loan book over the next two years.
Aside from loan sales, it has also been working with some of its borrowers to sell assets and restructure borrowings.