Ligoniel: Soldiers' memorial attacked for 17th time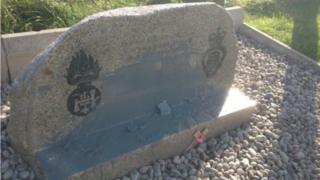 A memorial to three Scottish soldiers who were murdered by the IRA has been attacked for the 17th time, the Royal British Legion has said.
Glass jars filled with paint were smashed over the monument at White Brae, Ligoniel, on the outskirts of north Belfast, overnight.
The monument is a tribute to teenage brothers John and Joseph McCaig, and their colleague Dougald McCaughey, 23.
The off-duty fusiliers were shot dead at the site by the IRA in March 1971.
'Desecration'
The memorial was built using funds raised by the Royal British Legion, but it has been repeatedly attacked since it was erected five years ago.
James Wright, chairman of Oldpark and Cavehill branch of the Royal British Legion described the latest attack as a "sectarian hate crime".
"This is nothing short of desecration and is even more hurtful to the families and comrades of the three boys, John and Joe McCaig and Dougald McCaughey, as we approach the time of national remembrance.
"We are asking for political and community representatives within the nationalist communities to do more than simply issue a condemnation," Mr Wright added.
"The reality is this, no matter what is thrown at this memorial or however these mindless thugs damage it we will ensure that it is repaired and that it will remain at the site where the three boys were murdered."