Northern Ireland: Danske Bank reports profits of £81m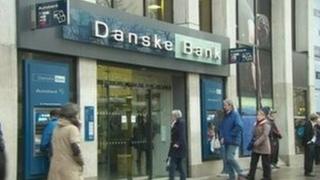 Danske Bank in Northern Ireland has reported a pre-tax profit of £81m for the first nine months of the year.
Part of the reason for the improved performance is down to having to write off fewer bad loans.
Gerry Mallon, the chief executive of the bank, said the results were positive.
He said he believed the Northern Ireland economy was showing signs of improvement.
"The economy is still on the fragile side, but it's clearly recovering," he said.
"I think we are at the stage where we foresee a good long-term profitable stretch ahead of us."