Ulster Bank: Ellvena Graham says branch closures 'inevitable'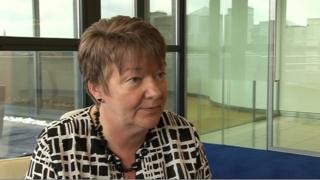 More Ulster Bank branch closures are "inevitable", according to its chief executive in Northern Ireland.
"Branch closures are inevitable - that is being truthful," Ellvena Graham told the BBC's Inside Business programme.
The bank, which is owned by Royal Bank of Scotland (RBS), is the largest in the Northern Ireland market.
"We have 79 branches. Our closest competitor has 50. I do think that 79 is probably still too high," Mrs Graham said.
'Time to re-invest'
She said she could not put a figure on how many more would go.
RBS, which also owns NatWest, has indicated the pace of branch closures is unlikely to slow, with customers increasingly opting to do their banking online.
Across the RBS group, more than 100 branches have shut so far this year.
The general secretary of the Irish Bank Officials Association (IBOA) financial trade union, Larry Broderick, warned closures would result in job losses.
Speaking on the same programme, he said: "Pious platitudes of 'well done' when the bank is making profit is not good enough.
"They need to start re-investing in staff."
On Friday, Ulster Bank reported an operating profit of £394m in the third quarter of 2014.
That compares to a £58m profit in the previous quarter.