Maíria Cahill: Dispute over letter to IRA army council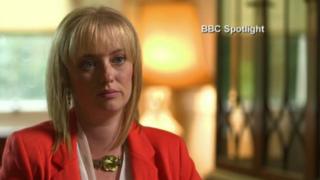 The lawyer for four people alleged to have been involved in an IRA kangaroo court into Maíria Cahill's claim she was raped has said she wrote a letter to the IRA complaining it had not carried out a proper investigation.
Solicitor Peter Madden also said the letter indicated Ms Cahill recognised she had the option of going to the police but had decided not to do so.
Ms Cahill has said she has never tried to hide the existence of the letter.
She said she has been misrepresented.
Two weeks ago Maíria Cahill told the BBC's Spotlight programme that she had been raped by alleged IRA member Martin Morris in 1997, when she was 16.
Complaint
Ms Cahill further claimed that IRA members had subjected her to an internal investigation that culminated in her being forced to face her alleged abuser.
She said they claimed it was in order to determine who was telling the truth.
Both the alleged abuser and all of those said to have been involved in an internal IRA investigation deny the allegations, and were found not guilty after Ms Cahill withdrew her support for a criminal prosecution.
Mr Madden, who represented the four accused of carrying out the investigation, told Irish state broadcaster RTÉ's Morning Ireland programme that Ms Cahill had written to the IRA army council to complain that it had not carried out a proper investigation into her claims.
Mr Madden also said that the letter indicated that Ms Cahill felt that two women whom she identified as being involved in the alleged internal IRA investigation, had acted honourably.
Mr Madden said it appeared, from the letter, that Ms Cahill was co-operating with an IRA investigation.
However, he reiterated that his clients deny being in the IRA, or that they took part in any such investigation.
Main concern
The BBC has seen the letter referred to by Mr Madden. Ms Cahill has said the letter was written when she was in her late teens, and after the alleged IRA investigation.
In the letter, Ms Cahill does make reference to two women, but in her statement on Friday she said that only one of those women is represented by Peter Madden.
"I believe the army's intentions were honourable with regards the two women who dealt with me, and one in particular has been of great comfort and has given me great comfort throughout the year," she wrote in the letter.
In her statement, Ms Cahill said the woman she specifically referred to was Siobhan O'Hanlon, now deceased.
Mairia Cahill's main concern throughout the letter is that her alleged abuser, Martin Morris, had left Northern Ireland.
"I am asking for clarification on exactly how Marty Morris was able to disappear," she wrote.
"My life has been destroyed, not only by Marty Morris, but also by the people who messed this situation up. I can't accept the fact that he is free to live somewhere else with access to other children."
On the alleged IRA internal investigation, Ms Cahill wrote: "By letting Marty Morris go, you collectively planted the seed that it was okay for him to do what he did - it didn't matter that I lost part of my childhood and it was pointless in me going through the investigation."
'Same result'
In Friday's statement, Ms Cahill refuted Peter Madden's assertion that it confirms that she had the option of going to the Royal Ulster Constabulary with her complaint, and said that her reference to the matter demonstrates her frustration at not being able to go to the police.
"I could have gone to the RUC and got the same result - at least he might have stayed in the country," she said.
Ms Cahill said that the letter proves that there was an IRA investigation, and that in stating "why bother putting me through the first investigation," it is clear that she was forced into the process.
Mr Madden said his clients will be taking action against the BBC's Spotlight programme.