Donegal man Liam Lawn's World War Two on board Lancaster bomber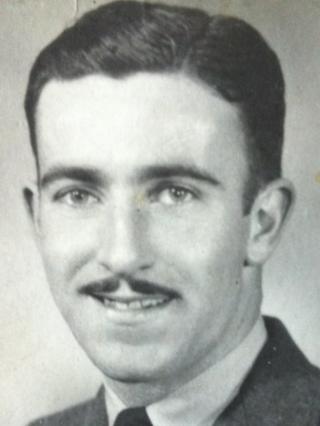 They say the past is a foreign country, and to tens of thousands of Irishmen over the past century, it must have felt very foreign indeed.
These were the men who, over the course of two world wars, chose to fight for the British military, and whose experiences were subsequently written out of the history of their country.
My grandfather, Liam Lawn, was one of them.
Growing up, I was always aware that he had served in the RAF during the war, but details of what he did were scant.
Like many men of his generation, he chose not to discuss his experiences.
My picture of Liam Lawn's war in the skies over Europe comprised snippets of family folklore, never fully substantiated, and spoken of in furtive conversations when he was not present.
He died in 1990, when I was 13. It was only afterwards that we discovered the truth, or some of it.
It turned out that Liam had travelled to Belfast in 1943, looking for work. One evening, whilst in a bar with friends, RAF recruiters came in, buying drinks and promising adventure.
It seems Liam signed up on the spot. A couple of days later, he was on his way to initial training in England. He became a flight engineer, and flew dozens of bombing raids over France and Germany.
Crash after raid
It was a dangerous job. The death rate for Bomber Command air crew during World War Two was a staggering 44%. And on 20 May 1944, Liam Lawn almost joined that number.
Returning from a raid over France, his Lancaster bomber did not make it home, crashing less than a mile from the airfield. Of the seven crew, three were killed. The other four, including Liam, were seriously injured.
He spent several months in hospital, but was back flying again in December 1944, and completed several more missions.
After the war he returned home to Donegal, got married, and rarely spoke of it again. He did not even apply for the war medals for which he was eligible.
In an era before we knew about post-traumatic stress, there may have been good personal reasons for his reticence. But it is likely too that there were social and political pressures on his decision not to discuss his war.
Written out of history
Liam Lawn was an Irishman of nationalist background living in a border county just as Northern Ireland's Troubles began to intensify. In his community, a career in the British military was probably not something that should be broadcast.
In that, Liam was not alone.
Over the course of the last century, tens of thousands of Irishmen from nationalist backgrounds signed up to fight in British uniform. At the outset of World War One, their own nationalist leaders, and even the Catholic Church, supported them joining up.
And in the decades since, their stories have been written out of history, not least by themselves.
As part of Tuesday's Spotlight programme ahead of Remembrance Sunday, I delve into my own family history to tell Liam Lawn's story.
Much of what I learned I did not know before.
Some of it surprised me.
For many years, the story of Liam Lawn and others like him did not fit the nationalist narrative in either Northern Ireland or the Republic of Ireland.
Now, with the benefit of some perspective, thousands of families all over Ireland are exploring the experiences of their family members who fought and in some cases died in British uniform.
It is a development that might end up making our shared history on this island a little bit more complex.
But it will also make it more truthful.
Spotlight was broadcast on BBC One Northern Ireland on Tuesday 4 November, and is available to watch on the iPlayer for four weeks