Dissident republican Colin Duffy released for police questioning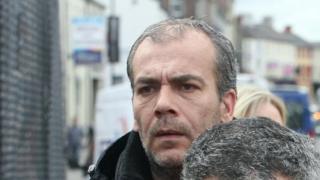 Detectives have been granted court permission to question high-profile County Armagh dissident republican Colin Duffy for up to 72 hours.
The 46-year-old is in custody accused of IRA membership and plotting to murder security force members.
Police went before Belfast Magistrates' Court seeking his release to carry out interviews about separate matters.
No further details were disclosed on what is to be put to him during the interview sessions.
Mr Duffy, of Forest Glade in Lurgan, was in the dock to hear the application.
A detective constable confirmed police wanted him for questioning.
Mr Duffy has been held since his arrest last December along with Alex McCrory, 52, of Sliabh Dubh View, Belfast and 45-year-old Henry Joseph Fitzsimons, of no fixed address.
Charges were brought against them in connection with a gun attack on police vehicles travelling along the Crumlin Road in north Belfast.
All three are jointly accused of conspiring to murder and belonging to a proscribed organisation - namely the Irish Republican Army.
Mr Duffy is also accused of conspiracy to possess firearms and explosives with intent to endanger life.
A defence solicitor asked for confirmation that the police application was not linked to the alleged offences and operation for which his client is currently on remand.
A detective replied: "The matters we wish to question him about are separate."
A district judge agreed to let Mr Duffy be released into police custody for up to three days.