Theresa Villiers: Corporation tax decision 'in weeks'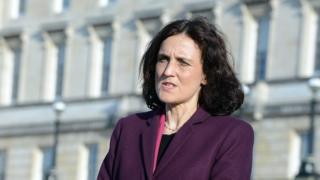 The government will decide in principle in the next few weeks if corporation tax powers can be devolved to Northern Ireland, Theresa Villiers is expected to say later.
The secretary of state is to speak at a gala dinner on Thursday night.
She will say that the government was taking calls to devolve the powers "very seriously".
The current rate paid by businesses in Northern Ireland is 21%, compared to 12.5% in the Republic of Ireland.
The executive wants to be able to match the tax rate in the Republic.
Ms Villiers will be speaking at a Co-operation Ireland event and is expected to say that the Northern Ireland economy is "definitely heading in the right direction" but that "economic growth relies on successful businessmen and women".
She will say that the government will do everything it can to "boost enterprise and the private sector in Northern Ireland".