NI Broadband Improvement Project 'boosts internet speeds'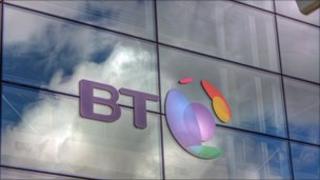 More than 8,000 Northern Ireland homes and businesses are receiving faster broadband as part of a government programme to improve internet access, BT has said.
The Broadband Improvement Project, announced in February, aims to provide broadband to an extra 45,000 premises in rural areas by the end of 2015.
BT has completed the first two phases of the £24.5m programme.
Two Stormont departments are providing £19.3m of funding to the project.
The scheme should bring at least one of these improvements:
Access to basic broadband in areas that have no service
Access to superfast broadband in areas that have some service
Choice of supply from several competing broadband companies in areas that have superfast broadband and other services, such as video on demand or subscription television
Enterprise Minister Arlene Foster said she hoped that entrepreneurs and businesses could exploit improved broadband speeds "to the benefit of the local economy".
Colm O'Neill, chief executive of BT in Northern Ireland, said: "It is fantastic to see the progress our engineers are making with the Northern Ireland Broadband Improvement Project; particularly given the enormous challenge they have to re-engineer the existing copper network and transform it into a fibre-rich network.
"The importance of next generation rural broadband in Northern Ireland's continued economic recovery cannot be overestimated.
"Great communications infrastructure is critical to economic sustainability and inward investment, but in order to drive growth, people need to adopt the technology that is available to them."
According to a report by communications regulator Ofcom in August, eight in 10 households in Northern Ireland had access to the internet in the first quarter of 2013, a figure similar to the UK average.
Broadband access - both fixed and mobile - remained stable at 73% of households, just below the UK average of 77%.