Tyrone County Hospital wards merger put on hold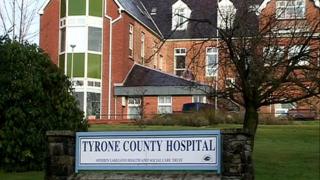 Plans to merge the palliative care and rehabilitation wards at Tyrone County Hospital in Omagh have been put on hold, the Western Health Trust has confirmed.
The merger would mean terminally ill patients being treated in the same ward as patients who are recovering.
Sinn Féin MLA Barry McElduff welcomed the move.
"I would like to think that in the new year, we'll hear confirmation that it's being abandoned altogether," he said.
"It was a bad idea. It is ill-thought out, insensitive and it shouldn't have come to light at any stage."
The announcement was made last week that Tyrone County Hospital would be closing its palliative care ward and amalgamating it with the rehabilitation ward in the same hospital.
The trust said it was part of a £7m package of cutbacks to its budget being implemented as part of an overall savings plans cuts announced by the health minister.
As part of this, the trust said on Friday it was cutting 77 temporary jobs.
The wider health cuts will mean potentially more than 100 fewer hospital beds and wards closing at the weekend.
As part of the cuts, Northern Ireland's only dedicated respite centre for people with multiple sclerosis - at the Dalriada Hospital in Ballycastle, County Antrim - is being closed.