Pastie recipe row led to child abduction bid, Belfast court is told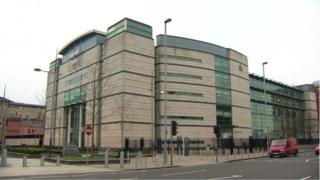 A man tried to abduct a child from school after starting a row with the boy's father over a chip shop recipe for a pastie mix, a court has heard.
Christopher Smyth, from Wynchurch Park, Belfast, was accused of punching the boy's father on 27 February.
The court heard Smyth then drove to a school attended by the victim's 13-year-old son and lied to staff that the boy's parents had been in a car crash.
He pleaded guilty to assault, criminal damage and attempted child abduction.
Belfast Crown Court heard Smyth's family owns three fish and chip shops in Belfast, and the assault victim's family also run a number of fast food outlets in the city.
A prosecution barrister said that on the morning of 27 February, Smyth arrived at the victim's front door and "became aggressive straightaway and was shouting about a recipe for a pastie mix".
The court heard that when the man told Smyth to get off his property, the accused punched him in the mouth without warning, splitting his lip.
It was alleged Smyth told the victim: "You're dead," before trying to headbutt the injured man.
The man managed to close his front door, which was then kicked several times by Smyth.
About 30 minutes after the assault, Smyth drove to a school attended by the victim's son and spoke to several members of staff in the school's reception area.
The court hear Smyth claimed that the schoolboy's parents had been in a car accident, and that he was the teenager's uncle and needed to take him out of school.
However, the boy was not at school that day, and when staff became suspicious, Smyth left the premises.
He was arrested later that afternoon on several charges, including attempted child abduction.
The prosecution barrister said Smyth had claimed he had "no intention" of taking the teenager out of school, and that he only wanted to talk to the boy so he could tell his father to "call off the police".
The prosecutor added: "There is no evidence to suggest the defendant would have inflicted physical harm on him."
She said his actions at the school were an "extension of his grievance" with the teenager's father.
A defence barrister said his client had a traumatic background, which included the recent death of his brother.
Passing sentence, the judge said it appeared the two families had once been close but that a fall-out had occurred over a number of matters, including a recipe for pasties.
He handed the 27-year-old an 18-month sentence, which was suspended for three years.
However, the judge warned Smyth he would "put the sentence into effect" if he committed any further offences.