Greystone Presbyterian Church graffiti attack 'absolute disgrace'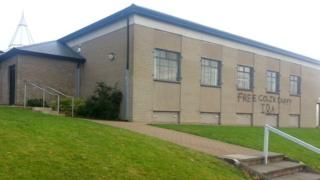 The spraying of republican graffiti on a Presbyterian church in Antrim has been condemned.
The slogan "Free Colin Duffy - IRA" was written on the wall of Greystone Presbyterian Church.
Ken Wilkinson of the Progressive Unionist Party said the attack was "an absolute disgrace".
"It's a significant day, Remembrance Sunday, and if people think they're representing their community they're completely wrong," he said.
"Whenever I was up speaking with members of the church, people from the local Roman Catholic church came across - they were at Mass - and came and apologised.
"I think that was very significant, they said it wasn't in their name and I agreed with them."
'Utterly appalling'
The MP for South Antrim, the DUP's William McCrea, said the incident was "utterly appalling".
"For this to be daubed on the church on Remembrance Sunday is another indication of the sinister motive," he said.
"Those behind this only want to heighten tension and cause maximum division."
Sinn Féin councillor Noel Maguire also condemned the attack.
"My phone's been red hot over the last couple of hours with people from the nationalist/republican community complaining about it," he said.
"This is Remembrance Sunday and, in my opinion, this has been put there to cause the maximum offence to this church community.
"I can reassure this community that the nationalist/republican community absolutely condemn it."
Police have appealed for information about the attack.