Ardcarne Park, Newry arrests: Police get more time to quiz suspects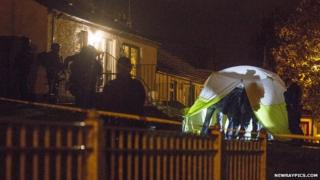 Police investigating "violent dissident republican activity" who arrested 12 men in Newry, County Down, have been given five more days to question seven of them.
The men were arrested at a house in Ardcarne Park in the city on Monday.
It is understood they are being questioned as part of an investigation into the Continuity IRA.
Five of the men have been released pending a report to the Public Prosecution Service.
Detective Superintendent Kevin Geddes said detectives from Serious Crime Branch had been granted an additional "five days by a court to question seven of the suspects".
A number of searches were carried out by police on both sides of the border between Northern Ireland and the Republic of Ireland.
It is understood that this was a major operation led by heavily armed members of the PSNI's special operations unit.
Eleven men were arrested inside the house and the 12th was in a car parked outside.
The men were taken to Antrim PSNI station for questioning.