Anti-trafficking procedures are 'disjointed system' says Home Office report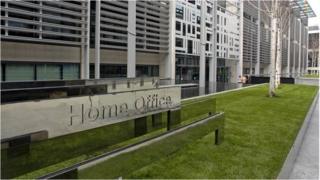 The process to identify victims of trafficking is "disjointed" and needs overhauling, the Home Office has said.
A review has identified a number of problems, including how victims are identified and how claims are assessed.
Justice Minister David Ford said on Thursday he will consider the implications for Northern Ireland.
Critics of the system say that the immigration service is biased by targets and should not be ruling on human trafficking cases.
National Crime Agency (NCA) statistics show potential victims of trafficking from outside Europe are less likely to have their claims accepted.
Cases from within the European Economic Area (EEA) are assessed by the UK Human Trafficking Centre (UKHTC). Between April and June 2014, they concluded that people had been trafficked in 95 of the 124 cases they ruled on; a recognition rate of 77%.
The immigration service, UK Visas and Immigration (UKVI), decide claims from nationalities who would normally require a visa to enter the UK. They reached a "positive conclusion" in 32% of the cases they assessed during the same time period.
An NCA spokesperson said that claims brought by people from outside Europe tend to be more complicated, and can be motivated by a desire to obtain immigration status.
Victims from outside Europe, who have their claims accepted, may be granted permission to remain in the UK for one year.
The review recommends that all cases should be dealt with by regional panels, which could include trained members from UKHTC and UKVI, as well a police and health care workers that have relevant training and experience.
Fidelma O'Hagan, Anti-Trafficking Legal and Policy Adviser at Law Centre (NI), which provides legal services to victims of trafficking, welcomed the report's findings.
She said: "We had asked for the creation of regional expert panels to make decisions on whether a person is accepted as a potential victim of trafficking. This would take the exclusive decision-making power away from the Home Office."
Self-referral
The system for assessing claims is called the national referral mechanism (NRM),
Victims of trafficking can face pressures that make them reluctant to report their circumstances to the authorities. Currently adults can only get support, which includes accommodation in a safe hostel, if they consent to being considered as victims of trafficking.
The review recommends that information about potential victims of trafficking who do not give consent should be shared more effectively, so that a more accurate picture of human trafficking can be established by the police.
Gemma Wilson, of charity Stop The Traffik, which trains PSNI officers to recognise the signs of trafficking, said: "Stronger intelligence gathering is what will, if acted upon, make the NRM a strong tool in the UK's approach to tackling trafficking."
However, the report makes no recommendation that adults identified as potential victims should have their cases considered without them giving consent to the authorities, which is currently the case for children.
Timescale
A Department of Justice spokesperson said that some of the recommendatiosn were already implemented in Northern Ireland such as an active public awareness campaign, and staff tasked to identify potential victims of trafficking in prison.
They said other recommendations would need detailed consideration, and that the piloting of new initiatives could take "some months".
Figures for 2013 show that 37 people were identified as potential victims of trafficking by the PSNI, including 17 related to sexual exploitation. A single case involving 20 potential victims since the start of the year, means the figures are set to rise for 2014.
The Human Trafficking and Exploitation Bill, legislation intended to curb human trafficking, is due to become law in early 2015.