Ballysillan: Sectarian graffiti sprayed on children's minibus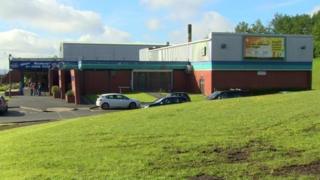 Sectarian graffiti has been sprayed on a minibus used by a children's football team as the young players were taking part in a match in north Belfast.
It happened while the vehicle was parked at Ballysillan leisure centre shortly before 19:30 GMT on Friday.
The children, who are all under 12, came back to their bus to find a threatening term sprayed on the doors.
Sinn Féin's Gerry Kelly said they were "very frightened by this experience". Police are treating it as a hate crime.
The minibus was being used by a team based in west Belfast.
In a statement, Mr Kelly said: "It's possible that this action was the work of only a small number of individuals but it's despicable that anyone would be bigoted enough to target children in this way.
"There is no place for this type of sectarian intimidation," he added.
"If it does continue at sporting facilities then those with a responsibility for arranging fixtures need to ensure that the safety of children is paramount."
Mr Kelly said he would be raising the issue with Belfast City Council, which owns the leisure centre.
The Sinn Féin MLA also said he has complained to senior officers about how police handled the incident on Friday night.