Jim Wells defends Dalriada closure saying 69 people use it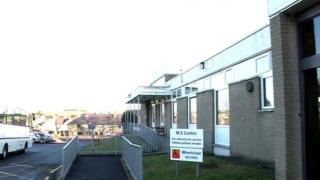 Health Minister Jim Wells has said he is taking seriously the concerns of those opposed to the closure of the Multiple Sclerosis respite unit at Dalriada Hospital, County Antrim..
However, he told the assembly that only 69 of Northern Ireland's 4,000 MS sufferers use it.
The MS unit will close at the end of November until March next year, as part of cuts to the health service.
It is Northern Ireland's only dedicated multiple sclerosis respite unit.
Earlier in November, up to 1,000 people gathered in Ballycastle to protest at the closure.
However, on Monday, the health minister told MLAs the temporary closure of the unit would save more than £500,000.
He said he had heard criticism, but had yet to hear alternative proposals on how money can be saved.
Mr Wells said he could not carry forward a deficit into the next financial year and had to land a "large spaceship called health spending on a postage stamp called balanced budget".
The Regional Multiple Sclerosis (MS) Respite Centre at Dalriada Hospital, Ballycastle, has 12 beds where patients can get respite.
The Multiple Sclerosis Society in Northern Ireland has called the plan for temporary closure "a devastating blow".