John Dallat: Shot boy 'makes plea to come home'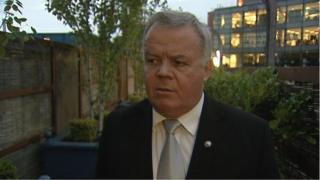 A teenage boy who was shot in both legs by paramilitaries when he was 15 is still living in "exile" a year after the attack, a politician has said.
The boy was shot, beaten with bats and exiled from his home town in a so-called punishment attack by loyalists in Coleraine, County Londonderry.
He has been living in a Belfast hostel but "desperately wants to come home" to his family, according to John Dallat.
The SDLP MLA has taken up the case, which he described as "child abuse".
"When news of this young boy being mutilated by loyalist paramilitaries became known there was genuine outrage that a child should have to go through this experience.
"But no one knows the suffering this child has had to endure since then as he has tried to recover from physical and psychological injuries inflicted upon him by these thugs," Mr Dallat said.
The MLA said the boy almost lost his left leg after the shooting and has been in hospital several times with infections over the past year.
"He desperately wants to come home and doesn't want to spend another Christmas in exile, away from his mother and his family".
Mr Dallat has called on anyone in a position of "influence" to help end the teenager's ordeal.
He said the 16-year-old was "yet another victim of unjustifiable violence committed against children and young people at the hands of heartless paramilitaries".