MLA expenses: A Stormont worth saving?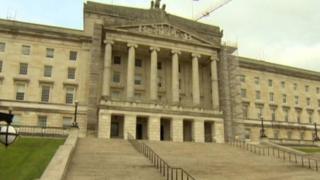 Following the BBC Spotlight programme examining the way Stormont politicians use public money to rent their offices, what next for MLA expenses and public confidence?
The DUP's Peter Weir reckons it is the fault of the system, rather than the behaviour of individual MLAs.
Sinn Féin insist they are benefiting the community, renting their offices from not for profit societies, rather than individual private landlords.
That said, the staff in their offices sounded pretty nonplussed about the societies' cultural and historical activities when phoned by a BBC Spotlight journalist posing as a visitor keen on tracing their roots.
Alliance's David Ford expresses exasperation at the public perception that all MLAs have questions to answer. He has called for a full independent investigation into the Spotlight expenses revelations.
'Accountability'
After the Westminster expenses scandal, this aspect of public life was meant to have been overhauled.
When it came to Stormont, the Independent Financial Review Panel created in 2011 has as one of its functions ensuring "probity, accountability and value for money with respect to the expenditure of public funds".
However it is evident from the Spotlight investigation that the panel chair, Pat McCartan, is not satisfied that the rental arrangements of some MLAs have proved sufficiently transparent.
Pat McCartan is now talking about requiring MLAs to prove the "beneficial ownership" of the properties they rent at the taxpayers' expense. The very fact that he is having to use that term is depressing.
Although the notion of "benefical ownership" goes back to medieval times , recently the phrase has been associated with efforts to crack down on the complex web of tax evasion and avoidance schemes around the world.
For the assembly expenses watchdog to be dealing with what David Ford describes as "smoke and mirrors tricks" will not do much for the public perception of the political classes.
'Worth saving'
In the second part of its investigation, Spotlight will move on to the issue of MLAs employing relatives. The Spotlight team's research on this score has already played a major part in the former Speaker Willie Hay's suspension of a member of staff back in September.
As the politicians head into yet another pre-Christmas period of intensive talks aimed at preventing the collapse of the devolved institutions, Spotlight's focus on how some MLAs manage their affairs will do nothing to convince the public that Stormont is worth saving.